The Rotary Club of Ocean Grove held its 9th Art Show on Friday Nov 1st through to Sunday Nov 3rd 2019.
(The Melbourne Cup long weekend)
The Venue was again the Pt. Lonsdale Primary School Function Centre, and the profits will be shared amongst local organisations (see below). See 2019 Prize winners
• Funds raised will be distributed among local charities as indicated below
Details of our valued sponsors for the 2019 show can be viewed here.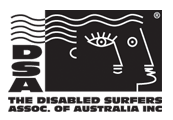 Disabled Surfers Association
25% of funds raised
Riding Develops Abilities
25% of funds raised
Club member selected causes
50% of funds raised
President Marion receiving the cheque from our Art Show's major sponsor - Bellarine Community Health
If you'd like more information, or perhaps would like information posted to you, please leave a message with your details here.